Hey there! Some links on this page are affiliate links which means that, if you choose to make a purchase, I may earn a small commission at no extra cost to you. I greatly appreciate your support!
Perhaps you probably just discovered that you have all the signs of scrupulosity and you do not know what to do next or maybe you are scrupulous looking for the best resources in your healing journey, this article is for you!
Finding a spiritual director must be your first step. It is difficult to walk through a narrow path of controlling your OCD without a guide. As a matter of fact, having a spiritual director can solely solve this problem. If you do not have a spiritual director yet, here's a guide in finding one.
For a better result, spiritual direction can also be supplemented by additional helpful resources. As scrupulous myself, I know their importance for they are a huge part of my recovery.
Here are the best resources for scrupulosity.
Ten Commandments for Scrupulous by Scrupulous Anonymous
This is by far the best resource for scrupulous. This can be your cheat sheet whenever scrupulosity hits.
The founder of the Congregation of the Most Holy Redeemer (also known as the Redemptorist), St. Alphonsus Liguori also had scrupulosity. This put the mission of helping the scrupulous their special charism.
The Ten Commandments for scrupulous is produced by Scrupulous Anonymous, a Ministry of Redemptorist since 1964 to help individuals with Religious Obsessive-Compulsive Disorder.
This resource is composed of 10 helpful detailed directives that can be followed by the sufferer.
These commandments are my go-to blueprint when I cannot decide on certain matters relating to morality. As scrupulous, I know at times we feel that nobody can understand us because of our irrational fears but reading this piece from Scrupulous Anonymous opened my mind that I am not alone. That someone understands.
Aside from the Ten Commandments, they also publish newsletters to their email subscribers.
You can check their website here.
For a copy of the Ten Commandments for Scrupulous, click here.
To subscribe to their newsletter, fill out this form.
Examination of Conscience Guide
One of the struggles of scrupulous is going to confession. There is always a tendency to trigger OCD when scrupulous go to this Sacrament.
Examination of conscience is a practice of reviewing one's actions that could probably be considered sins. It is based on a guide, usually the Ten Commandments with questions for each commandment for reflection.
There are available guides online or in the Parish but, for scrupulous it is much better if it is simple and straightforward. Contemplating in detailed or wordy guides can be overwhelming which could cause confusion on the part of scrupulous.

Here's an example of a simple guide from USCCB.
Wondering how to do an examen of conscience for scrupulous? Here are the tips.
Scrupulosity Support Group
Battling scrupulosity alone could be depressing. Just like other disorders, having a support group could help you recuperate.
When I first discovered my condition, the first thing I did was to look for a support group for those who have scrupulosity. I needed to feel accepted. The assurance that I am not alone. Checking "Scrupulosity Support Group" on Facebook, there were few results. The results I came across were the Catholics with Depression and Anxiety Group and Catholic Scrupulosity Support Group. I joined both.
With excitement and desire for a solution, I asked a question right after I was accepted in the latter group. The members replied fast with helpful answers. Both groups have the most active members. There are a lot of posts from time to time with members helpfully answering them.
Having a support group is an underrated yet effective tool for anyone who is on the path to healing. It is always amazing that despite the disorder, you can still feel you belong and are loved.
Below are the links to both support groups.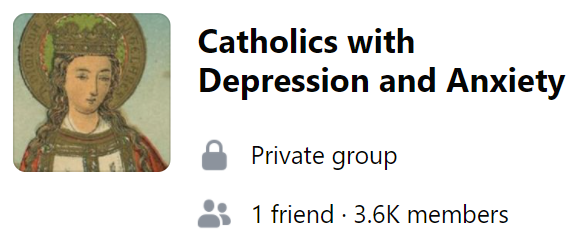 Catholics with Depression and Anxiety
Catholic Scrupulosity Support Group
Understanding Scrupulosity: Questions and Encouragement by Fr. Thomas M. Santa, CSsR
Extending the help to those who are attacked by the scruples, in addition to the newsletters and other resources, Fr. Thomas M. Santa, a redemptorist priest authored a book that contains questions and examples that an OCD sufferer can follow and relate into.
It also contains updated scientific findings and therapy approaches for OCD plus directions a scrupulous can follow to recover.
Compared to other books on scrupulosity which are broad, this one is in a specific niche. It talks about Catholic Scrupulosity. From confession to prayer life, every scrupulous Catholic can find this to be beneficial in controlling their OCD.
For more books that talk about scrupulosity, here is a list.
Prayer Journal for Scrupulous
Another resource that could help in controlling scrupulosity is a Prayer Journal. This printable journal is created for those who are scrupulous.
It contains three (3) sheets as follows:
Prayer journal with three (3) Sections, Thoughts and feelings, Prayer, and Thanksgiving
Fear Tracker
Compulsion Tracker
It has a minimalist design that makes it not that overwhelming. The Fear Tracker will help you acknowledge your fears while the Compulsion Tracker will keep you updated on the compulsions you overcame.
This digital product is available in three (3) sizes, A4, A5, and US Letter.
This is a must for those who are scrupulous.
You can purchase it here.
Conclusion
Unlike in the times of scrupulous Saints, in this era when information is freely available, we, scrupulous Catholics can take advantage of it. It is through the internet that I found out that I have scrupulosity and it is also through it that I found ways to control it. With the helpful resources above, you can start your recovery process and defeat scrupulosity.