For us, Catholics, traveling is not complete without dropping by some of the most beautiful Churches located in the place we visit. Having been to different Churches when I was still an auditor, I always find it exciting to see architectural designs that stand the test of time. Aside from the aesthetics, it is also fascinating to dig deep into its history and discover its unique role in the community it resides in.

One of the places you should put into your bucket list when it comes to a "Church Visit" (Visita Iglesia) is San Antonio, Texas. Aside from their mouth-watering Mexican dishes, this city in the south-central part is also famous for its rich colonial historic sites such as museums, theaters, and of course, Churches including Monasteries and other Spiritual Centers.
In this blog post, we will list down the 5 beautiful Catholic Churches in San Antonio, Texas.
About the Archdiocese of San Antonio
The Roman Catholic Diocese of Galveston was split on the 28th of August in 1874. The northern region was then baptized the Catholic Archdiocese of San Antonio courtesy of the Holy See. Initially, it is what composed the Ecclesiastical Province of New Orleans but rose the rank on August 3, 1926, to become a metropolitan archdiocese. Eleven years ago, it had 138 parishes. In 2018, the number had risen by one.
In 2010, the number of pastoral centers and missions stood at 2 and 34 respectively. Extra facilities such as health care facilities, schools, and children's homes were noted eight years later. Following the authorization of Archbishop Jose Horacio Gomez to take the position of Archbishop of Los Angeles, its cathedral seat was still vacant until October 14, 2010. Gustavo Garcia-Siller then became the head of the Roman Catholic Archdiocese of San Antonio in Texas.
Here are the Catholic Churches in San Antonio you should visit!
San Fernando Cathedral
Location:
Plaza de las Islas Canarias 115 Main Plaza, San Antonio, TX 78205 United States
Contact:
Telephone Number: (210)-762-6665
Website: sfcathedral.org
Founded by a group of fifteen households in 1731 as a response to the call of King Phillip V of Spain, San Fernando Cathedral is the mother church of the San Antonio Archdiocese. It has served the people of the Archdiocese for more than 2 centuries now.
 
Before Texas proclaimed its independence, it became the main Church for various religious groups in San Antonio as Catholicism was given an upper hand by the Spanish and Mexican governments.

After phases of renovation, in 2011, as it was dedicated, the Archbishop, Gustavo Garcia-Siller, placed the relics of St. Anthony of Padua and Venerable Concepcion Cabrera de Armida on the altar.

To accommodate the multi-cultural background of its community, Holy Mass is celebrated both in English and Spanish.

At night, they do a colorful laser light show which is very artistic and historical. You shouldn't miss it!

Considered one of the oldest Cathedrals in the United States, its gothic style would surely make the faithful in awe.
Schedule
Mass
Monday to Friday: 12:00 PM
Saturday: 5:00 PM
Sunday: 8:00 AM (Spanish), 10:00 AM, 12:00 PM (Spanish), 2:00 PM, 5:00 PM

Confession
Monday to Friday: 10:00 AM to 2:00 PM
Saturday: 1:00 PM to 5:00 PM
Sunday: 11:00 AM to 3:00 PM
Adoration
Every First Friday: 12:30 PM to 1:00 PM
St. Joseph Catholic Church
Location
623 East Commerce St., San Antonio, TX 78205 United States
Contact
Telephone Number: (210) 227-0126
Website: stjsa.org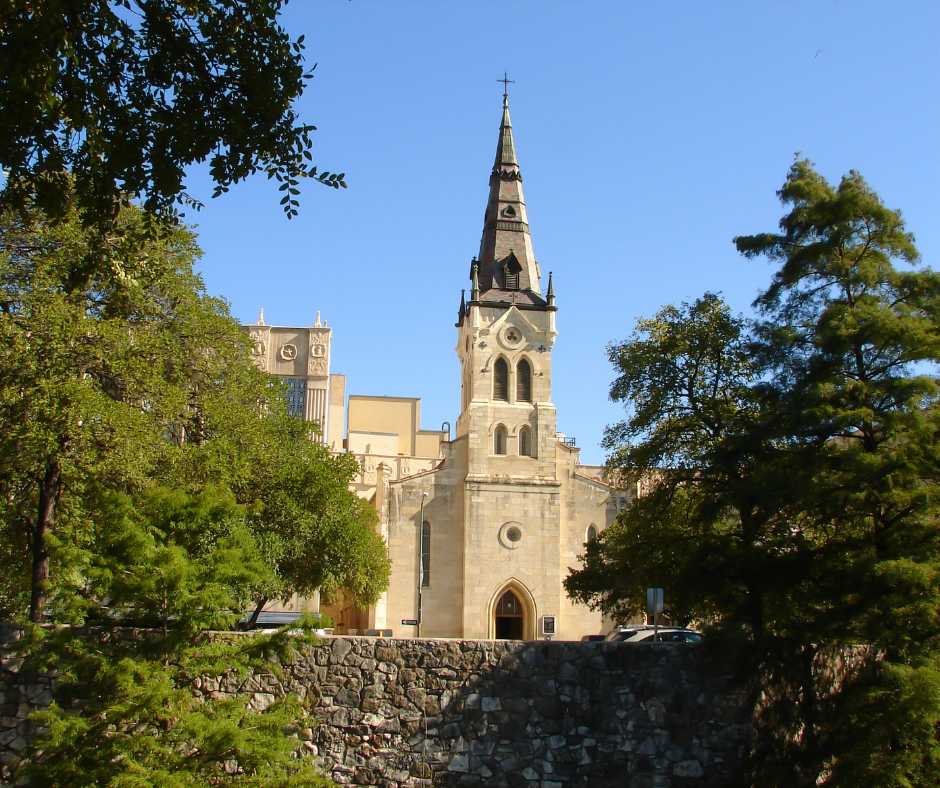 Located in the middle of San Antonio downtown, this Parish served an enormous and growing number of German immigrants back in the 1800s. It was completed in 1876. Church bought four bells with similar intonations bought in 1891 and sanctified the Church. This building lacked a tower until 1898 when the current spire was built to make it complete. Four years later, colored glass windows bought from Germany were fixed. The Germans gradually improved the structure.
The fourth Catholic parish in the city is also famed for its all-male choir, the San Antonio Liederkranz. It was formed in 1892 by the same German Immigrants who built the parish to add beauty to the German Liturgical services and also to perform in parish festivals. Currently, they still perform once a month during Mass. If you happen to drop by, you should check them out!
With its architectural gothic style, beautiful statues, and serene ambiance, you would definitely love this Church.

Schedule
Mass
Monday to Saturday: 5:00 PM
Saturday: 5:00 PM 
Sunday: 8 AM, 9:30 AM (Spanish), and 11 AM

Adoration
Monday to Saturday: 10:00 AM to 11:30 AM

Confession
Monday-Saturday: 10:00 AM to 11:30 AM

Basilica of the National Shrine of the Little Flower
Location
1715 N Zarzamora St., San Antonio, TX 78201 United States
Contact
Telephone Number: (210) 735-9126
Email: admin@littleflowerbasilica.org
Website: littleflowerbasilica.org
Also known as St. Thérèse and Our Lady of Mount Carmel Church, this one out of four Churches in the whole Texas and 49th in the whole United States designated as Minor Basilica, is dedicated to St. Thérèse of Lisieux. Established in 1926 and completed in 1931, the Basilica shelters relics of St. Thérèse and her parents.

Located on the west side of San Antonio, this 90-plus-years old Church run by Discalced Carmelites contains some majestic artworks like mosaics and paintings. Additionally, the music played inside will capture your soul.

With its historical classic design, I know for sure, Church enthusiasts would love this!
Schedule
Mass
Monday to Friday: 12:00 PM
Saturday: 12:00 PM and 5:30 PM
Sunday: 8:00 AM, 10:00 AM (Spanish), 12:00 PM, and 5:30 PM (Spanish)

Confession  
Tuesday: 6:00 PM
Mission Concepcion
Location
807 Mission Road, San Antonio, TX 78210, United States
Contact
Telephone Number: (210) 533-8955
Website: missionconception.org
Founded in 1711 and relocated to San Antonio in 1731, this Church founded by Franciscans is a UNESCO World Heritage Site. It is also the oldest stone church in the United States of America without restoration. So basically, what you will see, is the way it looks since its establishment.
Converting people to Catholicism and instructing them on the qualification to become Spanish was the mission it was built upon. Once you enter the Church, its walls would speak of how historic it is.

The Church is also popular for its "Double Solar Illumination". It happens every August 15 of the year, the Feast of the Assumption of the Blessed Virgin Mary in heaven, at around 6:30 PM in which the sunlight from the window shines on the painting of the face of the Virgin Mother.

If you love history and want to have a glimpse of what life was back then, this is your place!

You can take pictures inside without special permission, so taking pictures of its majestic interior is a must.
Schedule
Mass
Sunday: 10:00 AM and 12:00 PM
Mission San Jose Catholic Church
Location
701 East Pyron Avenue, San Antonio, TX 78214
Contact
Telephone Number: (210) 922-0543
Email: sanjoseinsatx@yahoo.com
Website: missionsanjosechurch.org 
Though the founding was in 1720, the building of Mission San Jose was finished in 1782. Of the 21 missions set up by the Spanish people, it placed 14th. The main reasons for founding these missions were to ensure that Spain retained the land and to inculcate in people Spanish culture and Christianity.  With its jaw-dropping structure and design, it became the most beautiful Church along the rest of the frontier of New Spain.

Before exploring, you should go to the visitor center to learn the history of Texas and its people back in the day with exhibits and brief free movies you can watch to appreciate the place more. Make sure also to check the famed Rose Window with carving (La Ventana de Rosa) located on one side of the Church. It is a mysterious piece with a lot of theories.

The place also offers free parking and free admission.

With its Spanish Colonial style structure and rich historical background, you will absolutely enjoy the place.
Schedule
Mass 
Sunday
Indoor: 9:00 AM
Outdoor: 12:00 PM (Spanish)

Confession
Saturdays (By Appointment)

Adoration and Benediction
First Fridays: 7:00 PM
Conclusion
More than the physical beauty evident in San Antonio Churches, the Catholic values and traditions attached to each firmly remain. The Archdiocese makes sure that the Churches cater to the needs of diverse cultures, accepting people from all walks of life, and sustaining them with the Holy Sacraments and charitable works. The Church stays true to its role, to be open for everyone, to live out the message of the Lord, and to be universal.

If you intend to visit San Antonio, you might want to check out these breathtaking Catholic Churches. And if it is your first time, do not forget to wish!

Note: Mass, Confession, and Adoration Schedule are subject to changes, please see their websites on the contact information to check updates.
For more travel blogs, you may want to check this one out.