Starting a prayer journal but not sure what to write? You are in the right place! This blog post will give away some of the Catholic Prayer Journal Templates to copy. These will help you to make your journaling journey easy, simple, and fun.
To differentiate templates, I categorized them into two. The first one is the classic which is the traditional journal, the other is prompt driven which apparently has prompts that guide writers.
Template 1: Classic
This is one is the most basic. It only contains a date and your prayer. This is perfect for those who want to focus on their message and not more on design. This template is helpful for those who are just starting prayer journaling. Its minimal content will not overwhelm them.
Template 2: Prompt Driven
The next template contains different prompts. Some writers want a highly-structured prayer journal template because of the ease to follow. They don't have to write freestyle. They only look for a prompt that triggers their thoughts.
Here are some of the sample templates.
Template 2.1 Simple
This is the simplest. It has guided statements that are straightforward and cover most of your prayer entry. It is divided into three (2) sections.
Thoughts and feelings
Thanksgiving
This is a must-have for beginners who want a prompt to guide them to write.
Template 2.2 Scriptures
This one has scriptures as a prompt. It is actually based on the Bible Study Process which is known as S.O.A.P.
Scripture
Observation
Application
Prayer
You just have to pick a scripture passage, reflect on it, and apply it to your life.
Template 2.3 Saints' Works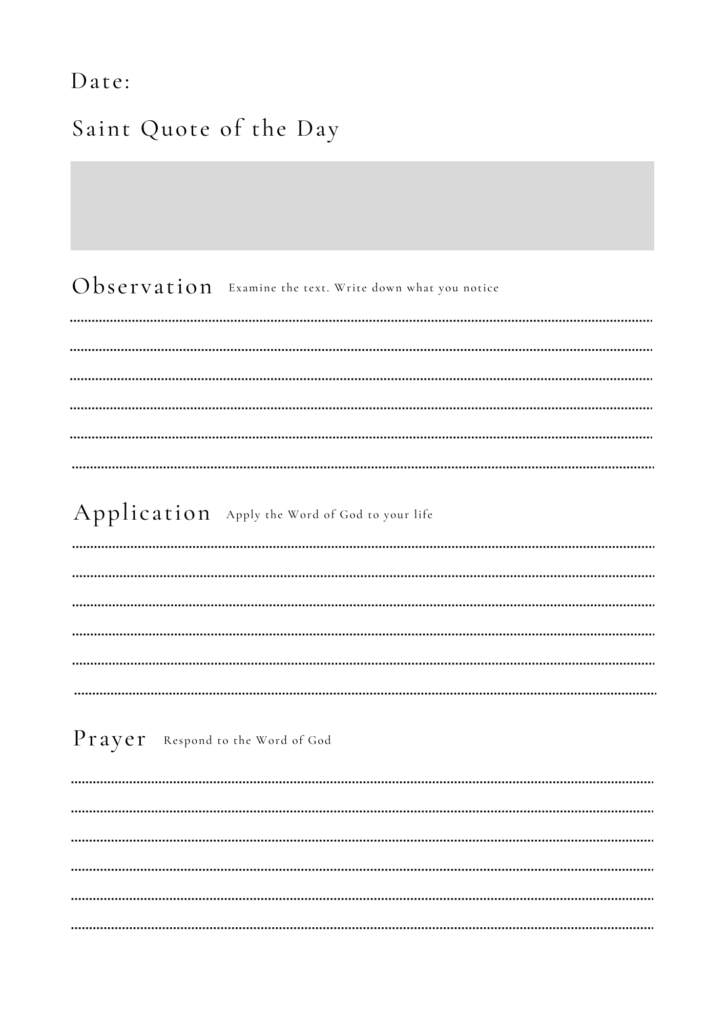 Just like scriptures, you can also use a Saints' works as a prompt. You can pick a quote or excerpt from the writings of any saint. Just like in the last template, you just have to reflect on it and think of ways how to live it out.
Template 2.4 Gospel
This template is created for Holy Mass Gospel reflection.
It is divided into four (4) sections.
Lesson
Action Plan
Prayer
The above template also has guide questions for you to just simply answer.
Template 2.5 Gratefulness
Lastly, Grateful Journal. This is one of the trending journals as of this date. If you are struggling with anxiety or depression, this journal template is your best buddy, not overwhelming you with a lot of stuff. Helping you to organize your thoughts and ideas. This will surely help you to see good things in adversities.
Recommendations
Catholic Printable Journals– If you are looking for printable journals, you might want to check out these various Catholic Prayer Journals in different designs.
How to Start a Catholic Prayer Journal– No idea how to start a journal? Check this complete guide teaching you the step-by-step process of prayer journaling.
Conclusion
There you have the Catholic Prayer Journal Templates you can use and copy. Start now and enjoy the Catholic prayer journaling ride.
May you have a fruitful and exciting journaling experience.
Happy Journaling!